For a number of years, we've been busy behind the scenes at Patchsave designing our own range of small diameter patch cables.  We wanted these to be different, by standing out from the crowd and taking on a completely new and revolutionary approach to patch lead distribution and packaging.  As always, choice, innovation and quality featured high on the agenda, but our new responsibility focus throughout the company has helped us to bring to market this potential game changer.

A number of global cabling manufacturers already take a range of Cat6 and Cat6a small diameter 28AWG patch cords to market.  These are all great slim cat6 products but have a number of limitations in terms of product availability, unit cost price and limited options around lengths and colours of their patch cords.  We set out to address these challenges, but at the same time manufacturer a patch cable that would be extremely versatile, not only in its design, but also its usability.

What really makes this new Cat6a slim patch cable stand out from the crowd is a core focus around the environmental impact.  This has been carefully considered in both the manufacturing process by using less raw materials with its slim design, but also around the packaging of each and every cable.  Our slim, small diameter range of Cat6a patch cables are fully backwards compatible with both Cat6 and Cat5e installations, providing a 10 Gigabit performance future proof FTP shielded design, coupled with PoE+ compatibility.

The construction is 30-40% smaller in diameter (4.5mm rather than 6.7mm) than our standard Cat6a patch cables, but it still has the 4x stranded cable pairs wrapped in foil to provide that additional layer of protection against interference and alien crosstalk.  When bundled together, you really notice the reduction in size across the installation and each and every Cat6a slim patch cable has been designed to offer critical component level performance.

As well as a shielded design, the Cat6a slim RJ45 connector uses 50 Micron Gold rather than the inferior and cheaper 3u micro inch option which can often be found with slimline patch leads.  This ensures perfect end to end performance across all applications.  Its tangle free Snagless booted latch allows for these patch cables to be used in high density patching installations, allowing for easy release in moves and changes with no damage to the cable latch.  As well as being Fluke E Class 500MHz tested, each slim patch cable meets and conforms to the following Cat6a industry standards of ISO/IEC 11801 ED2, ANSI/TIA-568 -C.2, IEC 60332 1.2 as well as being PoE+ IEEE 802.3at.

Using the Patchsave Cat6a small diameter cables has many benefits.  Their skinny diameter design reduces rack space, improving airflow, reducing energy costs and creating that desired optimal equipment performance.  Additional to this, not as much cable management is needed so the installation is easier to install and manage longer term, meaning this reduced diameter solution can provide those big advantages!

A big part of our design considerations have centred around the delivery of the Cat6a slim patch cables as we wanted to help in drastically reducing onsite installation time.  Therefore, all our Cat6a slim cables are loosely coiled with a single twist tie and no individual polybag packaging.  This has also allowed us to reduce the costs of the product and helps to drastically reduce plastic waste.  Additional to all these great features we have also ensured the cable length is clearly printed on the underside of both end boots, so easy for storage future reuse, taking full advantage of its life time guarantee.

Our Cat6a patch cables are constructed on UTP 30AWG copper slim net cable with no CCA content and are 100% performance rated.  They are comparable to the 28AWG small diameter cables that are taken to market by vendors such as Panduit and Blackbox and are fully compatible with their Cat6 and Cat5e slim patch leads.  As well as being around 50% less in terms of cost that these other vendors, we also provide a far more comprehensive range of 10x lengths (up to 5 Metre) and 10x colour options – all available next day from stock for both UK and European delivery.

Colours available in this Cat6a small diameter patch cord range are Grey, Green, Blue, Red, Yellow, Black, White, Orange, Purple and Pink, helping you to build that smarter unified network with immediate visual colour identification of hardware and applications.  The Category 6A patch cable design provides a seamless migration from Gigabit to 10 Gigabit (10GBase-T) Ethernet connectivity.  We also wanted to ensure that there was a good choice of Cat6a lengths to avoid surplus cable management requirements. Smaller lengths such as 0.25 metre and 0.3 metre are available for short length switch port to panel replication and then more unusual lengths including 1.5 metre, 2.5 metre and 4 metre lengths for inter rack equipment patching.  The maximum length available in this range is 5m to ensure there is no attenuation de-rating over longer length channels.

The small diameter design with LSZH jacket instantly creates improved flexibility for moves, adds and changes due to its tighter bend radius, so an ideal choice for high density cabinets, server rooms and data centres.  This slim Cat6a cable flexibility quickly reduces clutter when routing, dressing and managing the patch cables as they are far easier to handle in any environment.

Why not make that change today by standardising on our Cat6a small diameter patch cables?  You'll be future proofing your network, saving time, energy and better still replacing that plastic waste and helping the environment.  For more information and pricing please visit https://patchsavesolutions.com/756-slim-small-diameter-lszh-snagless-patch-cables or contact info@patchsavesolutions.com  Thanks for reading and we look forward to hearing from you soon.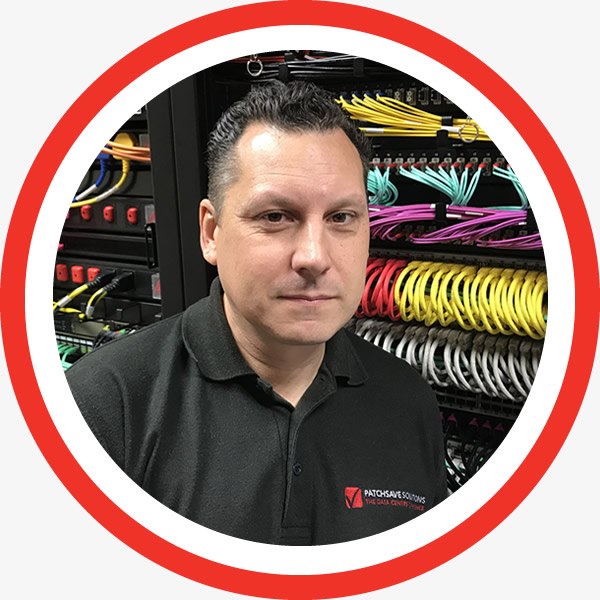 Gary Glasson
Product Development Manager, Patchsave Solutions Limited