The advantages of installing 1U 15cm and 2U 20cm short length patch leads whilst creating your own zero U, zero cost horizontal cable management system

With all good intentions, patch cable management is a difficult one to manage!

The stark reality is, that keeping patch cords neat and tidy is near impossible, very frustrating and time consuming.  After that initial new patching exercise, cable organisation will soon become problematic and (even with all best endeavours) standards will quickly vanish.  There will inevitably be constant moves and changes of equipment, ports will need to be re-patched and different personnel will be involved along the way.  Therefore, it is important to have a system that is adaptable and easy to manage, so here are some innovative ideas and best practices for you to digest.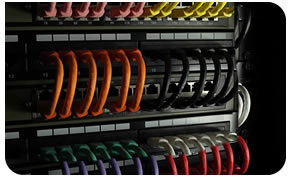 The initial installation of a structured cabling system is somewhat of an art form, with a great deal of expertise and detail being given to this part of the installation.  Seen as these cables are cut to exact lengths, it allows the bundles of copper looms to sweep in through the containment, being secured neatly in to position and punched down on the rear of each panel.  Finally tested for a fully certified end to end system for complete peace of mind.  If only the same could be said for the patch cord management at the front and/or rear of each cabinet. Very quickly this becomes untidy and tangled, putting stress on to individual cables and creating a hanging 'spaghetti' scenario.  This excessive weight issue is a real problem and an important one to solve, or better still avoid from the start.  Copper Cat5e, Cat6 and Cat6a cabling is heavy, therefore tracing network patch cables can also be a difficult and troublesome task.

Then there's the topic regarding bend radius compliance. If the patch leads are too tight, this will cause problems, likewise if they are too loose you have a whole different set of challenges.  If not used correctly, horizontal cable managers alone can actually lead to more harm than good for your voice and data cabling.  To maintain an acceptable amount of slack, usually means adding in more cable management products to try and recover a fairly neat patch field, but this increases time and money by utilising yet more rack space.

If you are looking at a new installation or cleaning up an existing one, there is a simple and effective answer.  Deployment really can be managed in an efficient manner.  Innovative patching can be a reality and future moves and changes can be completed seamlessly across the network, creating easier and faster patching throughout.  Ultimately this reduces time and money, whilst maintaining certified standards around the required cable bend radius.  Introducing 15cm 1U and 20cm 2U neat patching with zero cable management, that new possibility has now arrived with us in stock!

It is becoming more popular than ever to install Top of Rack (TOR) panels and network switches.  Typically patch panels are installed from the top down leaving either a 1U or 2U gap between each panel.  This often depends on the quantity of terminated ports on the panel or switch ports on the active equipment being installed.  This means that short length patching is now more relevant than ever in Comms rooms and Datacentres, gone are the days where a standard mix of 1, 2 and 3 metre leads would be suffice.  The demand now firmly exists for accurate, precise and performance patching, an integral part of any stable network, but often much overlooked in the larger Return on Investment (ROI) piece.

With new installations it is now common to patch in the whole patching field. Every patch panel port being directly connected to a switch port, thereafter a network security decision is made to remove or disable certain RJ45 ports.  This ultimately means, a clean start to any patching schedule.  If patch panels are installed down from TOR, then a short 15cm or 20cm patch lead is the obvious choice across a single or dual rack U space, resulting in an initial quick and tidy installation.  Please note, at this stage no horizontal cable management is being added!

The shorter precise 0.15 Metre or 0.20 Metre Ethernet patch leads will immediately improve your network performance and cause less future downtime.  You can then complete a neat patch from the top row of patch panel ports, to the bottom 0.5U in the switch using 20cm 2U Panel to Port LAN replication, then the lower ports on the panel can patch directly in the top port of the switch hardware using 15cm 1U replication, creating full compliancy around the bend radius of each cable.  We have found that a mixed environment of short patch 10cm and 20cm patch cords in a variety of colours, tends to be a sufficient installation for the majority of situations.

Now the really clever part!  What is really smart with this form of short patching is you can easily create your own cable management solution using the installed patch leads.  There is absolutely no need to purchase existing cable management products and use yet more valuable rack space.  The consistent and consecutive loop of cables creates a nice clean Zero U cable management solution. This means if you then want to pick up on the odd port you can simply run a longer different coloured patch cord through your readymade horizontal manager, loop to the side of the cabinet then up, down or across to a different patching frame or device.

When considering ROI, this simple technique will facilitate improved airflow and cooling, with less voids behind installed cable management products, resulting in the optimisation of valuable rack space with far less cable management.  This is a great solution for high density patch fields, but just as perfect for smaller tidy jobs and re-patching exercises.  Especially if there is sufficient slack within the rack or cabinet frame to reposition existing switches and patch panels.  Creating this clean 'tangle free' environment will mean quicker future moves, changes and smarter patch cord management, all coupled with a low initial investment and a rack or cabinet door that can actually be securely closed without causing any damage.

The Patchsave range of Cat6 (Cat5e Compatible) 1U and 2U options are available in convenient 24 Packs, with no annoying cables twist ties or individual bags, so perfect for quick switch port to panel replication.  Every small patch lead is verified to the latest ISO and EN standards, continuity tested to 250Mhz and with a certified LSZH cable jacket.  Their flush moulded low profile design means no awkward snagless or bubble overboot, so no need to worry about obstructing the view of panel and switch port numbering sequences, or accidently disconnecting high density patching with fat fingers!

Remember it's all in the planning, but keep it simple by using 15cm and 20cm patch leads.  Available from stock in 10 different colours, Grey, Green, Blue, Red, Yellow, Black, White, Orange, Purple and Pink for that perfect 1U and 2U bend radius across any new and existing RJ45 installation.  You can request a sample here, and we are able to deliver to you next day across the UK and Europe.

Russell Meehan
Operations Director, Patchsave Solutions Limited